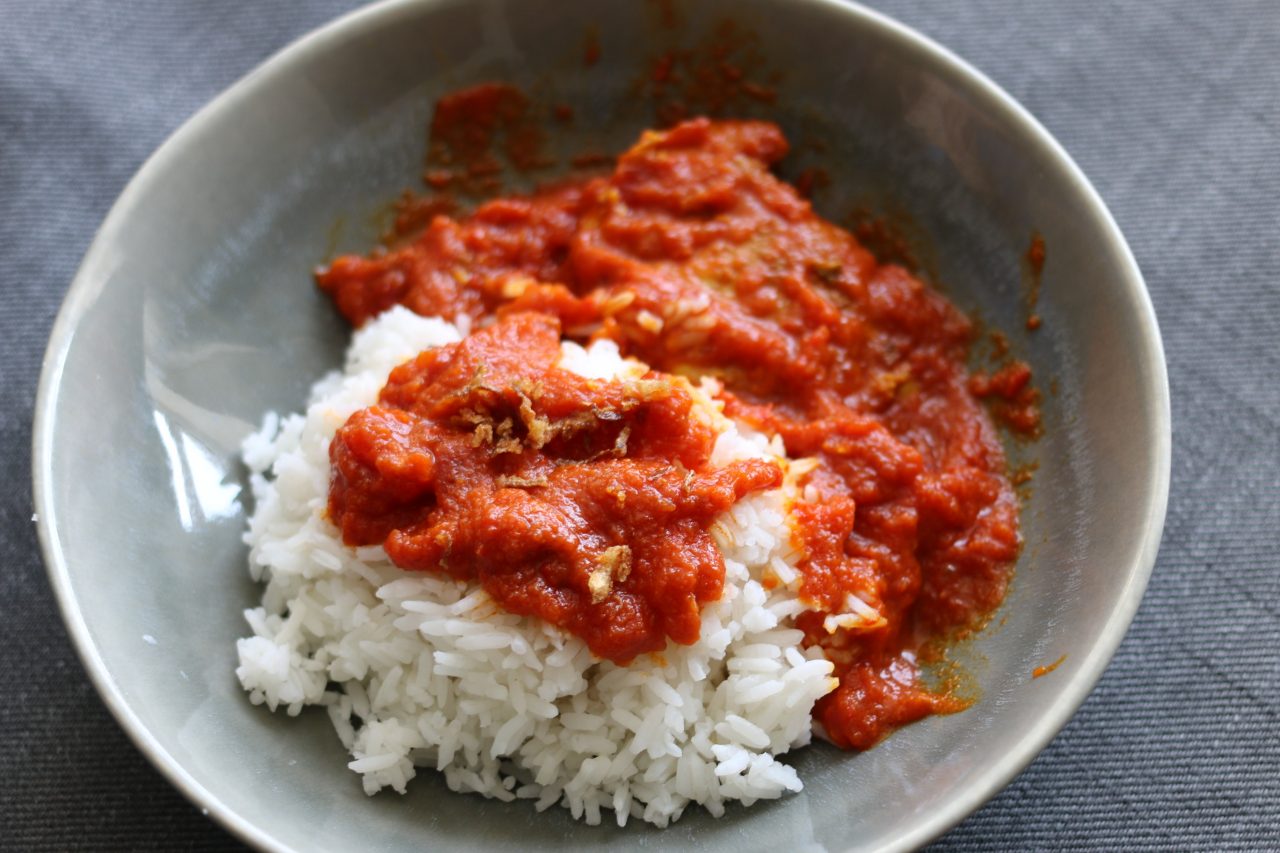 Ayam Masak Merah literally translates to chicken in red sauce, and is a comforting but flavourful dish, usually either cooked at home to satisfy the hungry mob, or bought as a dish with other items from Malay rice hawkers. Recipes appear to vary wildly, with each individual cook and region of Malaysia seemingly having their own twists and variations on the dish. Some are rather plain, others are packed with aromatics, whilst others include rich ingredients like coconut milk or evaporated milk, making it more lemak. It's quite often eaten with nasi tomato, an aromatic rice dish, though plain boiled rice also does a fine job of soaking up the sauce, and even tempering the heat if you're eating an especially hot version of the dish!
I've eaten various incarnations of Ayam Masak Merah at Malay rice vendors in Penang, and they always go down well with the crowd. A great dish to give to people who maybe aren't particularly experienced with Malaysian cuisine – I think I remember it going down well with my Mum! Unlike other comforting dishes like Rendang, the chicken meat is cooked separately, fried until it's golden and crispy, and only added to the sauce near the end of the cooking. The 'red sauce' is basically a stew of tomatoes, onions, garlic and chillies, and it is to this base that numerous other ingredients are added. Not wanting to go overboard, I've kept my recipe similar to what I've tasted in Penang. In my opinion, it has all you need to tease maximum flavour out of the dish!
Ang Moh's Ayam Masak Merah Recipe
Serves 4, or 2 Malaysians
Ingredients
4 chicken thighs or drumsticks, or a mixture of them, preferably with the bone still in, skin on or off depending on preference
1 tbsp tumeric powder
1/2 tsp salt
1 yellow/white onion
15g ginger/ginger paste
2 cloves garlic
3 dried chillies
3 red chillies (deseeded or not, depending on preference to heat)
1 tbps tomato ketchup
1 cinnamon stick
1 star anise, er, star
3 cloves
1 400g tin chopped tomatoes
salt and sugar to taste
Directions
Firstly we marinade the chicken. Place the chicken pieces in a large bowl and sprinkle the 1 tbsp of powdered tumeric and 1/2 tsp salt over, then mix until all of the chicken is coated. Leave this to marinade in the fridge for an hour or so. After leaving it to soak up those tumeric flavours, get a wok or frying pan to temperature, add a generous amount of oil and fry the chicken pieces until they're nicely golden and crispy on the outside, especially if you've left the skin on. Remember, Ang Mohs don't like uncooked chicken skin! They don't need to be fully cooked, as they will be finished off in the sauce later. If you're a deep frying fan you can of course deep fry your chicken. Put the fried chicken aside to drain.
Now to make the sauce. Peel and roughly chop your onion and chillies, then place in a blender along with the ginger, garlic, dried chillies and also a little water to help the blending process. Blend until a fine paste. Take some of the oil you fried the chicken in, and add it to a large saucepan. Bring up to temperature, and add the spice paste, the cinnamon stick, star anise and cloves. Continue to fry this mixture until fragrant, then add the tin of tomatoes and ketchup. Bring this mix up to a boiling bubble, and then reduce temperature, put a lid on the pan and let it simmer for 10-15 minutes.
Time to season the dish. Add sugar and salt to your own personal preferences, I usually end up with about 2 1/2 tsp sugar and 1 tsp salt added. I'd always recommend adding in the seasoning 1/2 tsp at a time, so you don't overdo it. When it's tasting good, add in the fried chicken, bring it back up to simmering temperature, put the lid on and let it simmer away for another 15-20 minutes. You can also add some water to the sauce at this time too if you think it's getting too thick, but don't add too much as it will dilute the flavour. After the 15-20 minutes, the dish should be ready, but I like to then leave it for a couple of hours for the flavours to develop and leech out from the aromatics.
Serve with some boiled rice and some stir-fried veg. Remember to watch out for the cloves, star anise and pieces of cinnamon when you take a mouthful!